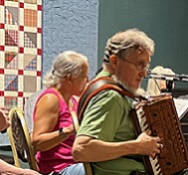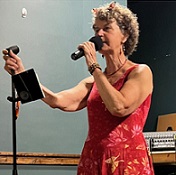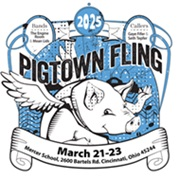 Cincinnati Contra Dancers
---
Cincinnati Contra Dance Schedule
Our Monday schedule is subject to change without notice. Our bands and callers are free to trade with each other as needed.

The current schedule follows. Saturday and "special" dances are a different color than the Monday dances. Please click
here
to see the archive of recent dances. Monday dances usually run from 8-10 pm, and Saturday dances typically run from 8-11:30 pm. A free Intro Session is held prior to Monday dances at 7:30 pm.
The local schedule along with regional dances may be viewed in this
calendar
that has been generously assembled and contributed by one of our dancers. If you have any contributions to this calendar, please send an email to janet at bertog.com.
Are you interested in an out of town dance and would like to car pool? Try the Google group at
http://groups.google.com/group/cincinnati-contra-dancers
which can be joined via email at
cincinnati-contra-dancers+subscribe@googlegroups.com
. Any email account can be used to participate in this Google group.
We send out occasional informational emails to our dance community. If you are not already on our email contact list and would like to join, please click
here
.
December 2017
Monday
12/18
Rosenthorns
Ryan Smith
Holiday music will be included for your dancing enjoyment!
Monday
12/25
No Dance!
No Caller!
No dance on Christmas!
Sunday
12/31
Mulberry Street
Ryan Smith
Our annual New Year's Eve dance begins with a community potluck at 6 pm followed by dancing starting at 8 pm. The cost is $10 and the dance will end with the traditional midnight revelry. Please come celebrate with us!
Dances of the recent past:
October 2017
Monday
10/2
Serendipity
Darlene Underwood
Monday
10/9
Barefoot in the Briarpatch
Kristen Planeaux
Saturday
10/14
Sweet Corn String Band
David Ernst
Monday
10/16
Open Band
Shelly Zeiser
Monday
10/23
Belt and Suspenders
Darlene Underwood
The next to last Schottische lesson will take place at 7 pm in the basement preceding the dance. There is no charge for this fun opportunity.
Monday
10/30
Rosenthorns
Ryan Smith
Dress up if you like! Halloween music will be included for your dancing enjoyment.
November 2017
Monday
11/6
Erin Ways
Kristin Planeaux
Saturday
11/11
Turnip the Beet
Matthew Beadlecomb (Beadle)
Turnip the Beet and Beadle are from Nashville. The members are:

Kelsey Wells - fiddle, banjo, mbira, feet, vocals
Jeremy Lekich - guitar, octave mandolin, djembe, vocals
Monday
11/13
Rare Privilege
Bob Green
The last Schottische lesson will take place at 7 pm in the basement preceding the dance. There is no charge for this fun opportunity.
Monday
11/20
Sweet Corn String Band
Frank Buschelmann
Monday
11/27
Full Moon
Susan McElroy-Marcus
December 2017
Monday
12/4
Queen City String Band
Kristen Planeaux
Saturday
12/9
Paw Paw Pickers
Kathy Anderson
The Paw Paw Pickers are from southwest Kentucky. The members are:

John Harrod - fiddle
Mason Colby - banjo
Tona Barkley - guitar
David Wagoner - bass
Monday
12/11
Barefoot in the Briarpatch
Shelly Zeiser