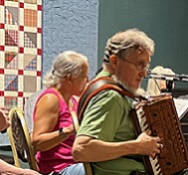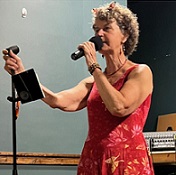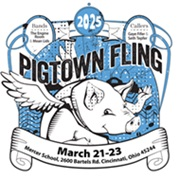 Cincinnati Contra Dancers
---
Cincinnati Contra Dance Schedule
Our Monday schedule is subject to change without notice. Our bands and callers are free to trade with each other as needed.

The current schedule follows. Saturday and "special" dances are a different color than the Monday dances. Please click
here
to see the archive of recent dances. Monday dances usually run from 8-10 pm, and Saturday dances typically run from 8-11:30 pm. A free Intro Session is held prior to Monday dances at 7:30 pm.
The local schedule along with regional dances may be viewed in this
calendar
that has been generously assembled and contributed by one of our dancers. If you have any contributions to this calendar, please send an email to janet at bertog.com.
Are you interested in an out of town dance and would like to car pool? Try the Google group at
http://groups.google.com/group/cincinnati-contra-dancers
which can be joined via email at
cincinnati-contra-dancers+subscribe@googlegroups.com
. Any email account can be used to participate in this Google group.
We send out occasional informational emails to our dance community. If you are not already on our email contact list and would like to join, please click
here
.
April 2018
Monday
4/23
Rosenthorns
Shelly Zeiser
Monday
4/30
Sweet Corn String Band
Kristen Planeaux
May 2018
Monday
5/7
Full Moon
Ryan Smith
Saturday
5/12
Counter Current
Michael Hamilton
Monday
5/14
Relative Harmony
Judy Greenhill
Monday
5/21
Queen City String Band
Susan McElroy-Marcus
Monday
5/28
Erin Ways
Susan McElroy-Marcus
June 2018
Saturday
6/2
The Contrarians
Darlene Underwood
Moved to 1st Saturday to avoid conflict with Dance Trance
Monday
6/4
Barefoot in the Briarpatch
Shelly Zeiser
Monday
6/11
Open Band
Frank Buschelmann
Monday
6/18
Continental Drift
Kelsey Hartman
Monday
6/25
Rosenthorns
Kristen Planeaux
Dances of the recent past:
February 2018
Monday
2/5
Riley Ceili Band
Ryan Smith
Saturday
2/10
Mean Lids
Bradley Smith
Monday
2/12
Queen City String Band
Frank Buschelmann
Monday
2/19
Rosenthorns
Darlene Underwood
Monday
2/26
Sweet Corn String Band
Shelly Zeiser
March 2018
Monday
3/5
Open Band
Susan McElroy-Marcus
Saturday
3/10
The Ripples
Shelly Zeiser
Monday
3/12
Full Moon
Kristen Planeaux
Monday
3/19
Barefoot in the Briarpatch
Frank Buschelmann
Friday-Sunday
3/23 - 3/25
Rosenthorns and Contraforce
Kristen Planeaux and Bev Bernbaum
Pigtown Fling 2018!
Monday
3/26
Queen City String Band
Darlene Underwood
Saturday
3/31
Queen City Consort
Waltz Evening - lessons begin at 7:00 pm followed by dancing from 8:00-10:30 pm. Admission is $7 ($5 for students).

Please follow this link for the details.
April 2018
Monday
4/2
Here Goes Nothing
Ryan Smith
Monday
4/9
Erin Ways
Chet Gray
Saturday
4/14
Wild Rumpus
Kristen Planeaux
Monday
4/16
Serendipity
Darlene Underwood